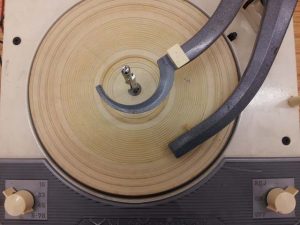 Ever just kinda, wanted to take stuff apart because it sounded like fun?  For some, the answer might be yes!  There is much to be said for the benefits of following through.  You get to use tools, check out the pieces inside stuff, and see how things are made.  We can also learn about things worth "upcycling", or use for: making prototypes, take-apart art, or as replacement pieces for important tools and resources.
During the holiday season we are taking a  bit of a different perspective on Deconstruction Lab.  Some creative reuse of cast off gadgets and gizmos might actually make interesting materials for us to become holiday gift making elves ourselves.  Think of making wreaths with green circuit boards, tree ornaments made from recycled electronic components, or sculptures of robots decked out in holiday gear for fun and interesting nativity scene additions. Wouldn't it be cool to embrace the spirit of those elves in the North Pole and hack together some cool, creative and geeky projects to celebrate with and give to your friends or family?
At Reuseum Ed. we get to see really cool examples of relics and awesome one of a kind pieces of technology from past generations, and celebrate how things are made by recycling and exploring the workings of awesome technology. Thanks to donations from local businesses and individuals, much of the cool tech that we resource for recycling is pretty unique.  Learning how we take take things apart so that we get parts (not pieces :)) is important, and we can also remember and practice using hand tools like screwdrivers and hot glue guns.
Deconstruction Lab is workshop event, minimal costs apply for materials: $3 small ornaments under 2″sq,  $5 <3″ cube,  $10 Large <6″ cube,  $20 Gigantic Behemoth < 1″ cube.  All ages are encouraged with a parent, and fun for pretty much anyone who likes to make things, and use found objects in their art, or science. No need to register for this one, just come on down and have some fun, we hope to see you there!