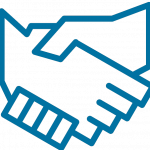 We want to thank all of our sponsors!
Because of them we're able to offer the very best STEM Education workshops and events in the Treasure Valley.
Dutch Bros Coffee was founded in 1992 by Dane and Travis Boersma: brothers of Dutch descent. After three generations in the dairy business, government regulations pressed the family to sell the cows. What felt devastating turned out to be a blessing in disguise.
The bros bought a double-head espresso machine, threw open the barn doors and started experimenting with just 100 pounds of beans and a rockin' stereo. They set up a pushcart on the railroad tracks and started passing out samples to anyone who would brave the new brew, and, within a month, they knew they had something special.
"One of the most rewarding things in this change of occupation was going from smelling cow manure to smelling coffee," said Dane. "You'd open the bag, and it was like heaven."
Today, Dutch Bros Coffee is the country's largest, privately held drive-thru coffee company, with more than 370 locations and 12,000 employees in 7 states. But growth hasn't taken the company away from its roots. Dutch Bros still gives away drinks — now over one million each year — to further the bros.' mission of "spreading the Dutch Luv."
The company donates over $2 million a year to its local communities and nonprofit organizations, including the Muscular Dystrophy Association, in honor of Dane, who passed away in 2009 after a four-year battle with Lou Gehrig's disease.
With its loyal customer base dubbed the Dutch Mafia, Dutch Bros Coffee continues to grow, and, wherever it does, the love, donations and smiles grow also.
Syringa Networks specializes in custom network and voice solutions for businesses, providing a broad range of networking services throughout Idaho, Nevada, Oregon, Utah, Washington and Wyoming.
Services are delivered over a 4 Terabit capacity backbone, on a purpose-built self-healing fiber optic network. Ethernet offerings are available at speeds from 10 Mbps up to 100 Gigabits (Gbps).
In addition to a full range of E-Line, E-LAN, and Layer-3 services, Syringa Networks operates Dense Wavelength Division Multiplexing (DWDM) technologies. And through services such as Multiprotocol Label Switching (MPLS) and Global Software-defined Wide-area Networking (SD-WAN), Syringa Networks can customize your business communications regardless of the technologies used at each location.
Additional services provided include Business Internet Access, Fiber-to-the-Tower, and Network Equipment sales.